Religion that is pure and undefiled before God the Father is this: to visit orphans and widows in their affliction, and to keep oneself unstained from the world. James 1:27 (ESV)
Have you ever looked into the longing, empty eyes of orphans on the TV screen and felt a tug at your heart? If you are able, you make a financial donation, but do you long to do more? Emma Gage, a music teacher at Cortland Christian Academy in Cortland, NY, combined her desire to live out the words in James 1:27 "… to visit orphans and widows in their affliction … "(ESV) with her desire to travel and did something many of us only dream about. She went on a short-term mission trip overseas that focused on ministering to orphans.
Emma has spent the last several summers working on her master's degree. She finally graduated, so she was free in the Summer of 2022 to pursue her unique opportunity. She contacted two different mission agencies—one in Romania and one in Greece. The one in Romania, Heart to Heart International (H2H) began a dialogue with Emma right away. H2H ministers to orphans of all ages in Romania—from infants to young adults. Emma felt it was a good fit, so she made plans for a two-week mission trip to Romania in July of 2022.
Emma admits that traveling to a foreign country alone, living in a mission house, and ministering side by side with people from different places around the world was a stretch for her, as well as adjusting to new languages. But the experience was an incredible blessing that far outweighs any discomfort she felt by being forced outside her comfort zone.
Emma's first impression of Romania is that it is a beautiful country. Emma loved the picturesque scenery, the baskets of flowers that hung everywhere, and the delicious food. "But the beauty encompassed so much more," Emma explained in a recent interview. "It was beautiful to experience the body of Christ from so many places working together, and the children were sweet and loving. They were always giving hugs."
Emma spent most of her first week helping with a day camp for orphan boys with special needs between the ages of 7 to 20. She worked with a group from California, a volunteer from Illinois, the H2H staff (some of whom were originally from the US), and local missionaries.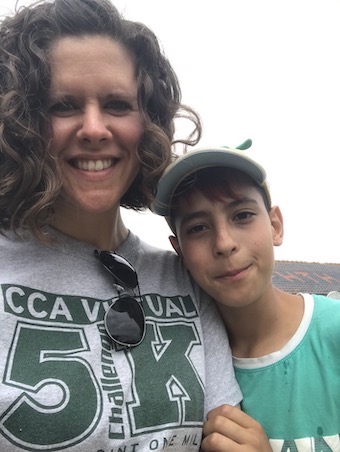 The day camp took place in farm country, which allowed the boys to get out of the city and into a different environment. The boys in the camp were orphans either because their parents had passed away, their parents were unable to care for them, or because their parents felt there was too much of a stigma to care for a child with special needs.
A typical day of camp consisted of both large and small group devotions, group singing led by local missionaries, sports and games, and other fun activities like face painting, water games, and bouncing on a trampoline.
"Since the children had special needs, not all of them understood the lessons," Emma said, "but they understood the love that was being shown to them. The children really enjoyed interacting with the missionary team." Emma said, "They loved trying to communicate with us. They learned a few English words, and we learned some Romanian words."
Emma's favorite part of the camp was free time when she played games one on one with the boys. "It seemed like such a simple act, but they just loved it if you would kick a soccer ball, hit a volleyball, or throw a football back and forth with them. They loved the interaction with people who cared about them. That is what was most impactful for me. They needed love and we were able to show it in so many ways."
Most of Emma's time during the second week was spent helping with a camp for teens at the main mission house which was led by a local youth pastor and his wife, who were also H2H missionaries. The team from California had left, and a new couple came from the United States to join the team. Emma was one of four short-term missionaries from various places in the United States working alongside the local missionaries.
Most of the teens at the camp were abandoned by their parents as infants or young children and grew up in state-run orphanages or foster homes. As older youth, they transition to supervised apartment homes in the community. H2H Missionaries are committed to pouring Jesus' love into these young people, helping them to learn life skills, and sharing the Gospel to help them discover their identity as a child of God.
The camp program consisted of devotions, music, crafts, and special activities such as movie night, pool time, nail painting, and sharing testimonies.
Emma's responsibilities were varied. She helped with meal prep as well as leading activities. One of her favorite activities was to help with crafts. It was a relaxed time in which a lot of positive interaction took place. Some of the teens who were learning English were eager to practice their English by talking with the missionaries.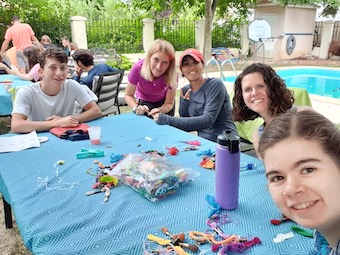 One of the highlights of the camp for Emma was teaching the teens a praise song in English. Emma chose the song, "O Happy Day" which has hand motions to go with the words. Emma felt blessed at how willing the group was to try something new—singing in a foreign language and trying the hand motions.
Emma also felt blessed that she was asked to share her testimony during an evening program. "What can I say to encourage these young people from the other side of the world who have such different lives than me?" she wondered. Emma felt reassured when the teens listened intently as she spoke, pausing every few sentences for the youth pastor's wife to translate.
Emma shared how she had asked Jesus into her heart as a little girl, and how He has been with her ever since. She explained how God helped her overcome her fear when she left her small private Christian school after the eighth grade and enrolled in a larger public school, and how God was there for her during difficult adjustments she went through after graduating from college. She encouraged the teens that He is there for all of his children no matter what they go through.
Sandwiched between the two camps, Emma and the other short-term missionaries visited a nearby city where the H2H Ministry had a mission house that was housing Ukrainian women and children who had fled from the war. Emma and the other short-term missionaries supported the refugees by cleaning the mission house and playing with the children.
On Emma's first day there, she noticed most of the children running around and cheerfully interacting with the missionaries. There was one little girl around three years old sitting on the stairs away from the other children hitting a balloon with her grandmother. Emma focused her attention on the little girl and befriended her.
The next day, some of the missionaries were able to share their testimonies with the women living in the mission house. Emma took the children outside to play so that the women could have an uninterrupted time of fellowship. Though Emma and the children couldn't understand one other's language, they were able to play together in a fort the kids had built and just have fun together.
Emma explained that communication at the mission house was interesting. The Ukrainians and Romanians could not speak each other's language. Russian was the common language, so Ukrainian would be translated into Russian and then from Russian to Romanian and vice versa. There were also women translating into English for the missionaries. At one point Emma carried on a conversation with a Ukrainian woman through Google translate. "It sounds complicated, but it worked because everyone was patient," Emma said.
The first Sunday Emma was in Romania, she and her team visited a Romanian Church led by the same pastor from the teen camp. She and the other missionaries were invited to sing some worship songs for the congregation in English. They invited the missionaries to stay for a traditional Romanian meal they prepared for them. They served home-baked bread, creamed vegetable soup, cabbage rolls, and jalapeno peppers with apple and cherry pastries for dessert.
The second Sunday Emma was in Romania, she and her team visited a church that met in a large large factory building where several of the H2H missionaries worshiped and some of the Ukrainian refugees visited. Emma enjoyed seeing familiar faces from the day camp and mission house. She was glad once again to be able to connect with the refugees. She saw the same little girl she had befriended and brought her out on the playground to give her mother a break.
Emma's mission trip was everything she had hoped for and more. She went back home to the United States with a renewed appreciation for the blessings we have in our country. She also developed a deeper commitment to reach out with love to those around her, not just when she is on a mission trip. "It was a reminder for me of the opportunity I have at school to love my students, not just to teach them the course work but to focus on their hearts. They all want to be known and need to be loved," Emma said.
If you have a chance to go on a mission trip, Emma encourages you to do so. But if that is not possible for you, she wants to remind you that you don't need to go to a foreign country to find orphans and widows. Just open your eyes and minister to the people God has placed in your path wherever you are.
More about Emma: Emma Gage has been the K-12 music educator at Cortland Christian Academy in Cortland, NY, for almost eight years. She loves teaching music and investing in her students' lives. She is an active member of her local church body and enjoys spending time with her family, being part of music opportunities in her community, gardening, and baking.
A Note from the Writer: Emma was in my eighth grade class my first year of teaching. Her respectful attitude, sweet disposition, and determination to work hard were great blessings to me as a newbie teacher.
For more information about Heart to Heart International, visit their website here.
If you were blessed by this story, you might enjoy these other missionary stories by Nancy:
Jonathan and Roseann Johnson: Retired Missionaries to Ecuador
Willard Appell, Teen Missionary
The Allens: Missionaries During Retirement
Anna Deikun: Missionary to Russian Jews
The Life and Legacy of Alex Deikun
A Blessing in Disguise (ministry of Potter's House in Guatemala)