Living in a garbage dump? Earning your living off the refuse and raising your children there? As an American living in a small rural community, it is hard for me to grasp that this is a reality for thousands of scavengers living in the basurero (garbage dump) in Guatemala City.
Last year through an online writing group, I was randomly paired with Gladys Guitz and Betsy Ahl in a private zoom meeting with just the three of us. I was intrigued by their stories.
Gladys is a sweet, soft-spoken Guatemalan who, as a young college graduate, co-founded Potter's House Association (PHA), a ministry to the scavengers who live in the basurero (garbage dump) in Guatemala City. What started as a simple request for Gladys to distribute blankets to the poor on Christmas grew into a ministry that has touched thousands of people worldwide.
Betsy Ahl took her first mission trip to Potter's House in 2006 and got hooked. She is now executive director of Beyond the Walls, a non-profit which organizes work teams from the United States to help in the ministry of Potter's House.
On our zoom call, Gladys talked about her ministry with Potter's House and the book she was writing to share her experiences. The task seemed daunting to Gladys since she is not a native English speaker, and she is grateful that God brought Betsy into her life to partner in the project. Betsy is passionate about the ministry at Potter's House, and she is a publisher and former Spanish teacher.
The book they created, Hidden Treasure, is now in print and is indeed a treasure. The title refers to the scavengers themselves, which the staff renamed "Treasures" early in the ministry to reflect that they are precious in God's sight, created in His image. The name Potter's House is taken from Jeremiah 18:1-6. The name reflects the focus of the ministry as God's. He is the one who is shaping the lives of the treasures, staff, and volunteers. "You are in my hands like the clay in the potter's hands." (v. 6b NIV).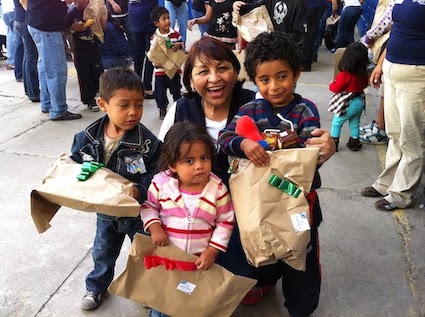 Gladys agreed for me to share an excerpt from her book. I must admit that it has been a challenge to choose just one. I know you will be blessed by this selection—chapter 11, "A Blessing in Disguise."
"A Blessing in Disguise"
"Potter's House is on fire!" Awakened from a deep sleep at 3:00 a.m., my husband, Edgar, heard those horrifying words. It was May 6, 1997, and the person guarding our facilities had called to say, "I have bad news to share with you. Potter's House is on fire, so please come as soon as possible."
Still in shock, we jumped into our clothes and headed to the dump. When we arrived, we couldn't park our car anywhere near our property because it was surrounded by people and fire trucks—eight of them. Firefighters were hard at work battling the flames that had engulfed our wooden structure.
As we walked toward the property, we discovered that people who knew us and Potter's House were guarding the area to ensure that others would not take advantage of the situation and rob us. It touched our hearts to see them opening up a path through the crowd and telling us, "Don't worry. We are taking care of PHA's belongings."
Although it was very dark, we could see that the entire carpentry shop had burned, and the rooms where we stored food and teaching materials were completely destroyed.
Our Work Was in Ashes
Surrounded by neighbors who stored recycled materials and flammable substances in their little sacks, the risk of fire was always present, but it was a risk that we at PHA were willing to take. That night, the fear became a reality, and in just 30 minutes, the work of the past ten years was reduced to ashes.
Edgar remembers, "At such times, we tend to think the worst. During those moments of chaos, we were afraid that besides losing our building to the fire, we had to worry about people trying to steal our few remaining possessions. But the Lord was faithful, and amid that chaos, we saw that the Treasures were not trying to steal from us. Instead, they were helping us by fighting the fire and by forming a human chain to salvage our belongings."
I could not move. I wrapped myself in a blanket and sat down to watch until the sun came up. I remembered how God had provided everything and wondered why He had allowed it to be destroyed.
The ministry had faced many challenges, including limited resources, understaffing, and the overwhelming needs of the Treasures. We had been asking God for a "Time of resting." Instead, I felt like we were moving from one trial to a worse one.
I felt as if I had lost a friend or family member. But even as I began to clear my thoughts, and I came to understand that He had not willed the property to burn. Our facilities were made of wood and small plastic houses that an organization had donated. I realized that the fire had a purpose, and instead of focusing on what we had lost, I began to focus on what we hadn't lost.
I was able to see the love of God shining through all the people of the dump community. They helped us to clean up. Later a neighbor donated blocks, and others came to pray for us and offered to help us begin construction.
Sometimes, an incident like this can be interpreted as a sign of the end of a ministry. But God did not allow it. Looking back, I can see that it was the beginning of a new era—an era of safer, more permanent facilities.
I saw God working in many ways. An unexplainable event brought an unexplainable way to build new and better facilities. He tested the faith of many of us as leaders of the ministry and staff, but now, we can say that the fire was a blessing in disguise. We remained obedient and stayed committed to serving the Treasures. The Lord answered our prayers and sent people to support the construction of the new facilities—all made of concrete block.
Five Phases of Rebuilding
The process was divided into five phases. The first phase was to build the wall around the property and give the structure a face on the street. We created a façade with three entrances, one for people, one for cars, and one for buses and trucks. The goal was to provide a secure place to keep our supplies and equipment.
The second phase was the addition of 10 bathrooms. Prior to this, we had only one restroom, and building more was an urgent need. Upon completion of this stage, the staff members immediately felt more comfortable.
During the third phase, we built a four-story administration building, which would house offices for program coordinators and fund-raising staff, meeting rooms, and the volunteer's room—a huge improvement over the former rooms of wood and tin. The fourth phase saw the addition of a huge multipurpose room and a commercial kitchen.
Previously, our maximum capacity was 100 people at a time; in the new space, we were able to host up to 500 for activities that included daily lunches, emergency shelter, weddings, evangelistic activities, parties for children, sports clinics, Vacation Bible Schools, graduations, medical clinics, and many other events that have benefited the community.
Phase five was a temporary wooden annex of 12 classrooms that provided learning space for 300 children who were part of our daily tutoring program.
The process took seven years to complete. The Lord was faithful in sending many friends and supporters who donated the resources so that even during this challenging time of rapid growth, PHA never had to take out a mortgage. In 2004 we moved into the new facilities.
Finally, in 2017 the Lord allowed us to replace the "temporary" wooden education annex with a beautiful permanent addition where children can learn and focus on futures beyond the garbage.
The fire was truly a blessing in disguise. The construction of a permanent facility on the edge of the garbage dump has improved the capacity, quality and impact of our work. We are using the facilities to build hope for tomorrow.
We know that in everything God works for the good of those who love him.

They are the people he called, because that was his plan. –Romans 8:28 (NCV)
How have you seen God work through the "ashes" in your own life or ministry?
What does it mean for you to focus on what you have, rather than on what you may have lost?
What unexplainable events has God used to bring about unexplainable blessings in your life?
* To thank my email subscribers, a free signed copy of Hidden Treasure will be given away in a drawing. Sign up as an email subscriber at the bottom of any page on this blog, and you will be included in this drawing.
*You can connect with Gladys or buy her book through her website: Gladys Acuna Guitz: Author, Advocate, Servant
*You can connect with Betsy Ahl and learn more about her ministry by visiting their website: Beyond the Walls
*Photo credit: Potter's House: Background photo is Gladys and Edgar Guitz with Treasures at dump.
Acuna Guitz, Gladys. "Blessing in Disguise." Hidden Treasure, with Betsy Ahl, Gladys Acuna Guitz, Middletown, DE, 2021, pp. 95–99. Used by permission.