Recently I interviewed Joe Hoffman, a 2021 graduate of the University at Albany who plans to be an intern in the fall with the mission agency Cru. Joe's spiritual journey throughout college had many ups and downs, twists and turns, but he found a community of mentors through the ministry of Cru who encouraged and challenged him. As an intern with Cru, Joe hopes to bless students in the Albany area in the same way he was.
Perhaps you, like me, can relate to Joe. Campus ministries were an important part of my college experience. I know you will be blessed to hear his story.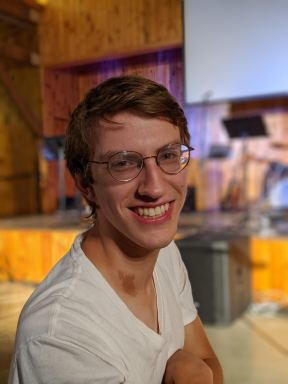 Joe was raised in a Christian family and attended an evangelical church. As a teenager, Joe began dating a girl who didn't share his faith. "I started getting more involved in following worldly things instead of God," Joe explained to me when we met in a coffee shop in Albany. "I started thinking, is this stuff truly real?"
Just before Joe graduated from high school, his girlfriend broke up with him. "It was a bad breakup, and I had to reorient my life," Joe said.
By the time Joe started college, he wasn't sure what he believed. He was searching for his identity by being different. He became known as the "dumpster diver" on campus, enjoying the attention he received when he ate leftovers that other students had thrown away.
"Also, as part of me being different and being prideful, I decided to get rid of my smartphone and all social media, and I started using a big yellow brick phone," Joe said. That also drew attention to him.
At first, Joe had no idea what he wanted to major in. Choosing his major was closely tied to his search for identity. He chose journalism and worked hard to be the best journalist possible, and he started writing for the campus paper.
During this time, Joe was living with his family and commuting to University at Albany with his sister. His sister started attending campus Christian fellowship meetings led by the ministry Cru, and Joe could see the transformation in her life. She encouraged Joe to attend the meetings as well.
When he came to the first meeting, he was surprised to see several of his classmates. After the meeting, his friend Alejandro shared his faith with a Muslim student named Yousef. Joe was entranced as he watched the interaction between the two. "Seeing my classmate, Alejandro, just a regular student like me, share the Gospel was really impactful for me," said Joe. He was also surprised at how hungry for the Gospel Yousef was. Joe found out later that Yousef became a Christian, but he paid a high price for his new faith. His parents kicked him out of his home.
The summer between Joe's freshman and sophomore year, Joe went on a mission trip to El Paso, Texas. The purpose of the trip was for the students from Albany to share their faith on a college campus where there was little Christian presence. "We really had to share our faith a lot, to practice evangelism. It was an important first step for me to see that God was working," Joe explained to me.
Joe's sophomore year, he became the editor-in-chief of the student newspaper, an honor which was usually reserved for upperclassmen. Even though it was a volunteer position, he spent many hours each week working on the paper. He also continued attending Cru meetings and led worship.
Despite the experience, he had the previous summer on his mission trip and his continued involvement with Cru, when he got to the end of the school year, Joe distanced himself from Christian influences and took a job working in the Adirondacks. "I made like Jonah and decided to run the other way."
He became involved in drinking, smoking pot, and womanizing. But all he found was a disappointment. Nothing satisfied him. After a few weeks, Joe hit rock bottom. He found himself sitting on the edge of a pond at night not knowing where to turn. "Am I a believer? Or am I just going to follow my own instincts?" were the questions he was asking himself. "But then I felt God telling me to call Yousef," Joe said.
Still sitting on the edge of the pond in the dark, Joe picked up his phone and called his friend. This was the turning point Joe needed.
Yousef reminded Joe that there were people who cared about him, that God cared about him, and that God had a better plan for his life than anything Joe could possibly have come up with himself. Yousef talked to him about Abraham and about how he stepped out in faith even though he didn't know where God was leading. They prayed together and agreed to study the Bible together.
When Joe got back to campus in the fall, he took a more active role in the Cru ministry. Eventually, he began doing something he never expected to do; he began leading Bible studies.
Joe decided to move to Albany during his senior year, even though the classes were online due to Covid. He wanted to become a part of the community where he was ministering. During the pandemic, Cru continued to hold small group meetings. Joe felt blessed that he was able to lead Bible studies and worship.
In January, Joe began to think seriously about what he was going to do when he graduated. He had outstanding contacts and references to help him begin a career in journalism, but Joe decided he wanted to do something that would have a heavenly focus. Joe applied to go to the Middle East as a missionary with Cru.
It took months for him to hear back from Cru. When he finally got a response, he was asked to consider taking a position working as an intern in Albany instead of going to the Middle East. And they wanted a response within two days.
This was such a drastic change from what Joe had been planning and hoping for over the past several months; he didn't know what to do. He contacted his Cru team leader he had worked with on campus. His leader told him two significant things. He told Joe that he thought he would be a great asset to the ministry. And he told Joe that it hadn't been announced yet, but that he and his wife were leaving and had been praying that God would raise up other Cru leaders to work in Albany.
That made Joe wonder if this was what God had planned for him. But he was still not convinced.
Then, as he was walking in Pine Bush, a nature preserve near Albany, he stopped to read his Bible and pray. God spoke to him through 1 Peter 2:9 " But you are a chosen race, a royal priesthood, a holy nation, a people for his own possession, that you may proclaim the excellencies of him who called you out of darkness into his marvelous light." Joe knew that he had been called out of the darkness and that he was meant to tell others how awesome God is. Finally, Joe had peace that this was the right path for him.
To be a Cru intern, Joe is required to raise his expenses. He began visiting churches and individuals to share his vision for ministry in April, and just three months later, he has raised almost 70% of his expenses.
If you are interested in joining Joe in prayer or through giving, please click on the following link: https://give.cru.org/1119413
*background photo credit: Roger Lipera from Unsplash.
If you enjoyed this story, you might also enjoy the story of Ryan Damon, another young man who was seeking truth. https://inspirationallee.com/blog/ryan-damon-seeking-truth
Or you might enjoy the story of Carole and Gary Allen who are also Cru missionaries. https://inspirationallee.com/blog/the-allens