The year 2008 was a time of transition for Bill and Colleen Thomas. In June they transitioned off their position as Cru missionaries and moved their family of eight from Ukraine back to the States. When they left for the mission field twelve years prior, their family consisted of Bill and Colleen along with their three-year-old and one-year-old sons. Moving back was a whole different story. They had six children ranging in age from 9 to 20, three of whom were adopted from Ukraine.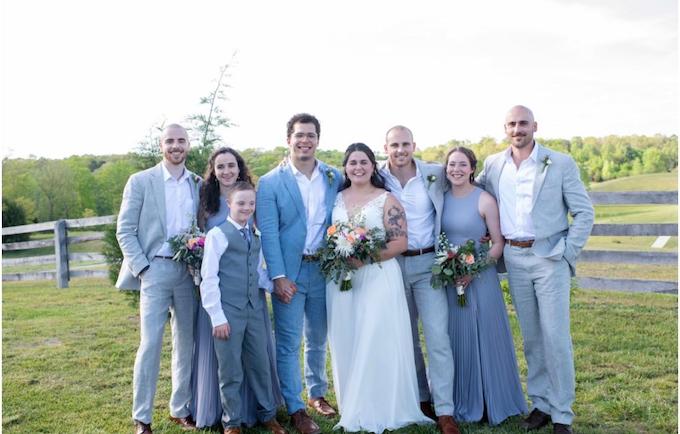 The summer was a blur as they visited family members and supporting churches, and purchased vehicles, appliances, and a house.
By mid-August, they were settled into their new home in Texas, far from their families in Upstate New York, and Bill started an intense three-year seminary program.
Colleen was looking forward to slowing down and falling into a routine as she homeschooled her children, but she wasn't feeling well. What was going on? Was it stress? Menopause?
Just a week after Bill started seminary, the whole family was shocked to discover that Colleen was pregnant at the age of 44. Bill and Colleen loved children. But the thought of having another one this late in life and during a huge transition was overwhelming.
This pregnancy was different from Colleen's other three. Colleen was sick and fatigued the whole time. She spent the school year homeschooling from bed. "I am thankful our children are so helpful. That is the only way I made it through the year," Colleen said in a recent phone interview.
Throughout the pregnancy, Colleen had a nagging fear that the child she was carrying would have Down syndrome. She had three dyslexic children and felt she could handle that, but Down Syndrome scared her. She knew her risk was much greater because of her age. She didn't have a blood test or amniocentesis, but she had a level II ultra-sound which didn't detect any abnormalities.
At thirty-four weeks, Colleen fell into bed exhausted after a long day and realized that she hadn't felt her usually active unborn child move in several hours. She followed her gut feeling and went to the hospital. When they hooked her up to a monitor, they discovered that her baby's heart rate was dropping, so they did an emergency C-section and realized that she was suffering from placental insufficiency.
"When they put my son Micah in my arms for the first time, I knew he had Down Syndrome," Colleen said. The baby was placed in NICU due to his prematurity. Colleen spent her days with her son in NICU, and at night she would weep and cry out to God. "It took me three days to work through it and gain acceptance. I felt like Mary, '. . . Behold, I am the servant of the Lord; let it be to me according to your word … (Luke 1:38 ESV)'"
If you discover that you have a child with Down Syndrome, or with any disability, Colleen stresses the importance of allowing yourself to grieve. Grieve the loss of the expectations you had for your child. "You need to realize that this is not about you. It is about the person that God created your child to be. Do you believe that this is a child that God has given you, that, even with Down Syndrome, he was fearfully and wonderfully made?"
Colleen also points out that raising a child with a disability puts you on a different journey—different, but not necessarily inferior. A journey with unique challenges and blessings.
Even though the journey is different, Colleen's goal for Micah is the same as for the rest of their children. "We pray for each of our children to discover the purpose God has created them for. We want to empower them to fulfill that." God has a purpose for Micah and for every special needs child.
Colleen acknowledges that, though there are sweet times with lots of hugs and smiles, parenting a child with Down Syndrome is difficult. Micah can be stubborn, and his behavior is unpredictable. Colleen describes how difficult it was when she had five teenagers who would get home from school in the late afternoon. Trying to connect with them over dinner while she addressed the needs of her toddler with Down Syndrome was challenging.
Despite the trials, Colleen and Bill recognize Micah's gifts. Micah is cognitively challenged, which is typical of his disability, but he has a high emotional IQ. He is closely attuned to people's emotions. Colleen tells a story about her and Bill taking Micah to a wake when he was six years old and leaving him in the nursery. He snuck out, and they found him sitting next to the husband of the deceased whom he had never met, hugging, and comforting him.
"Micah embodies the gentler sides of God's attributes such as grace and kindness. Micah is empathetic and would never be able to hold a grudge," Colleen explained to me. He cheerfully greets everyone and doesn't pay attention to skin color, disabilities, or socioeconomic status.
"Micah is a bridge-builder. God has used him to open doors in many ways that we may not even be aware of yet." In this way, Micah has a special place in Bill and Colleen's ministry.
Their experience in raising Micah helped prepare the Thomases for the birth of a grandchild with a genetic abnormality and to embrace a daughter-in-law who lost her twelve-year-old special needs brother not long ago.
Looking back, Colleen and Bill realize that Micah is the focal point that has provided a cohesiveness to their family and has carried them through some difficult moves—from Texas to Illinois and back to Upstate New York.
As the Thomases watch their peers become empty-nesters, they realize that is a stage they will probably never go through, but the Thomases are going through their own new phase of life. Micah just turned thirteen, and their older children are all living in Georgia and Pennsylvania. They are married or engaged to be married and starting families. Micah adores his older siblings, and the separation is hard on him.
Bill and Colleen were preparing to adopt a Down Syndrome girl from Ukraine, hoping to help a child in need and provide a companion for Micah. However, after many delays, the door was closed when the country went to war. They adopted a dog instead.
Colleen and Bill are alarmed at the push to abort children diagnosed with Down Syndrome in countries such as Iceland, the Netherlands, and even the United States. "Micah is a person with a soul. He has brought so much joy into our family and the lives of others. I can't imagine life without him," Colleen said.
Colleen remembers her feeling of fear before Micah was born and of overwhelm when she first found out he had Down Syndrome. "I wish I knew then what I know now," she said. To the mothers and fathers experiencing similar feelings at the news that their child has a genetic abnormality, Colleen says, "It takes a lot of courage to walk with the Lord into the unknown. I hope you will have the vision, forethought, and courage to say, 'Am I going to be courageous? No matter what child God gives us, it is okay.'"
More about the Thomas Family: The Thomases worked on the staff of Cru for twenty years, twelve of those in Ukraine. They are currently planting a church, Risen Hope Community Church in Dryden, New York. Colleen also works at the Care Net pregnancy centers in Cortland and Ithaca. They have seven children and nine grandchildren.
Did you miss the other stories in the Gift of Life Series? Click on the following links to catch up:
Amy Myers: Finding Hope in Infertility and Pregnancy Loss
Julee Wilson: Hope in Choosing Life Amid Uncertainty
Finding Identity and Purpose in Christ: a story of a secret adoption
Sarah DePass: Herkimer County Care Net: from teen mom to director