My friend and fellow writer Julee Wilson from Napa, California, contacted me and asked me to share her "Gift of Life" story. I know you will be blessed by her inspiring story about hope and life-changing faith.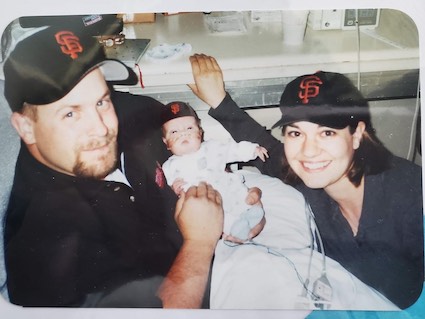 Julee lay in her hospital bed, her husband by her side, overwhelmed by what she was hearing her doctor say. The past two days had been the scariest and most stressful of her life. After a healthy and uneventful 22 weeks of pregnancy for her first child, she woke up with symptoms that led her to visit her doctor in San Francisco near where she lived. "Probably a bladder infection," she thought.
The doctor told her she was in labor and sent her next door to the hospital. The whirlwind began as the doctors settled her into a room in ICU, hooked her up on IVs, and started giving her medications to stop the contractions. Julee remembers family members coming and going, frantically trying to contact her husband who was working an hour away.
By the time her husband got there, Julee's blood pressure was high. His presence helped calm her, and he stayed with her through the night as a team of experts worked to stop Julee's contractions.
And now she and her husband were sitting face to face with her Ob/Gyn doctor. The doctor first explained that the goal was to prevent labor as long as possible. This meant Julee would be bedridden until she delivered her baby which could be weeks or months. Then they would deal with whatever issues the baby would have from a premature delivery.
"But if you gave birth today, the fetus would only have a ten percent chance of survival," the doctor said. The room was quiet as the severity of the situation sank in. "We see how hard it is on families to lose a baby," she continued, "another option would be to choose to end the pregnancy."
Julee and her husband glanced at each other, and then Julee looked her doctor in the eye, "There is no option," she said. "We are not going to terminate this pregnancy!"
Julee's Ob/Gyn was not the only doctor who suggested the option of terminating the pregnancy. She was in a teaching hospital, and different doctors would make the rounds with their students. Julee grew weary of hearing each one explain how difficult it would be to lose a baby and offer her the option of abortion.
"I was a new Christian at the time," Julee said. "It made me think about what I really believe as a Christian. It made me ponder God's sovereignty, and it strengthened my beliefs about abortion."
Julee remained in the hospital on bed rest and was able to prevent delivery for seven more weeks, but she finally went into labor at 29 weeks and gave birth to their first child, a son whom they named Paxton, weighing in at two pounds, three ounces.
The baby was immediately whisked away to the Neonatal Intensive Care Unit (NICU), and soon
Julee and Casey's worst fears were realized. Their infant son was diagnosed with chronic lung disease. "The worst case we've seen in a long time," the doctor told them.
The diagnosis was devastating, but Julee was encouraged by the medical team that rallied around him in the Neonatal Intensive Care Unit (NICU) and addressed his every need. The young couple felt at peace that God was in control.
When he was about a month old, Julee was able to hold her baby for the first time. From that point on, she and her husband interacted with him every day and became actively involved in his care. Julee was so grateful for the love and patience the medical team exhibited to the whole family. She appreciated how they answered all her questions when she asked, "Can you please tell me what that means in real-people terms?"
When Paxton was six months old, he was transported to the Pediatric Intensive Care Unit. He had a private room that had a cot for Julee. He was now around ten pounds, and Julee's friends and family members celebrated by hosting baby showers for them. He was alert and responsive. He loved his Winnie the Pooh stuffed animal and snuggling with Julee as she read to him.
Paxton eventually was able to come home, but he contracted pneumonia and had to go back into the hospital. This happened twice more. "He ended up having pneumonia three times in a row without any time in between to recover, and his little body couldn't handle it anymore. His body was tired, and the Lord was gracious and took him home." Paxton was almost ten months old when he went to be with Jesus.
Some might say this young couple would have saved a lot of pain by choosing to terminate the pregnancy. Perhaps, but Julee says it was one hundred percent worth it. "I would not have changed anything," Julee said. "We had a relationship with our precious son. He was a person with a little personality. He was a fighter and liked what he liked. And he always had a smile for us."
Julee also points out that God used this event for her spiritual and personal growth, an experience that she would not trade for anything.
Three years later Julie and her husband had a déjà vu moment. Julie was between eighteen and twenty weeks pregnant, and they sat in the Ob/Gyn office. "I have your test results," the doctor said. "The fetus tested borderline for Down syndrome. It is also smaller than we would expect for its gestational age. These two factors raise a red flag." She then went through a long speech about how difficult it is to raise a child with Down syndrome and finished with, "You have the option to terminate your pregnancy."
Julee looked at her dead in the eye and said, "So what you're saying is that because my baby might not be perfect, I should kill it? If God wants us to have a baby with Down Syndrome, then by golly, we're going to have a baby with Down Syndrome, and we are going to love the heck out of that baby!"
Their precious daughter Ashlee was born full-term at 5 lbs 5 ounces perfectly healthy with no abnormalities. Today she is a petite five-foot tall college student studying cellular and molecular biology and hopes to have a career in forensic science.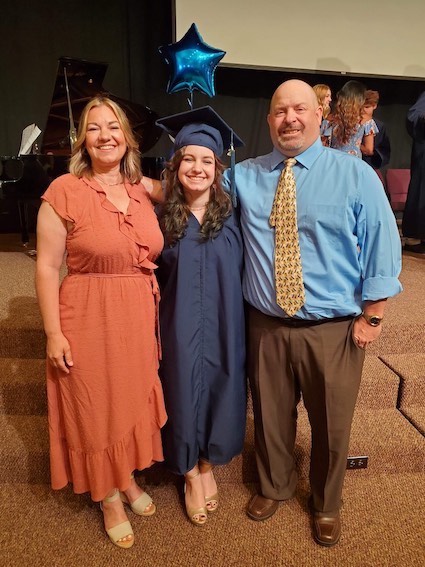 Twice Julee and her husband were presented with the option of terminating the life of their unborn child. She acknowledges that this is a frightening position to be placed in. But God was with her through all the pain and tears. Julee's faith was strengthened by many Bible verses and would like to share a few that especially spoke to her.
"There is no fear in love, but perfect love casts out fear" (1 John 4:18 NASB). Julee encourages someone in this situation not to give in to fear, fear of the unknown, fear of an uncertain future. Fear is not from God. You can entrust your uncertain future to the perfect, sovereign God who loves you, even if that future might involve hardship.
"And we know that God causes all things to work together for good to those who love God, to those who are called according to His purpose" (Romans 8:28 NASB). God led Julee to this verse in the days following Paxton's death while she was choosing verses for his memorial service. In her grief, she was crying out to God, I just lost my baby. How can this be good? Then she focused on the next part of the verse, "to those who love God." She knew the key was in loving God, but how? "I knew I had to know him by studying His Word and through the power of the Holy Spirit," Julee said.
"And hope does not disappoint, because the love of God has been poured out within our hearts through the Holy Spirit who was given to us" (Romans 5:5 NASB). This verse is a portion of a passage that Julee has chosen as her life verse. "Having this personal relationship with Christ, even when we are going through the storms and the trials and tribulations, we know that we always have hope," Julee explained. Let that sink in, And hope does not disappoint.
Twenty-three years after Paxton passed away, Julee still seeks ways for God to use the cherished life of her son for good. She is writing a memoir about her journey as a new Christian, new wife, and new mom as she navigates the perils of life in the NICU and the testing of her faith. For a preview, visit her website, There Go My Marbles and read her entries entitled, "Thousand Reasons Thursdays." She hopes that her book will encourage others going through similar situations.
___________________________________________________________
You might remember Julee from a guest post she shared on this website last September. In case you missed it, click on the following link: "A Lesson from the Master Vintner."