You are altogether beautiful, my love … (Song of Solomon 4:7 ESV).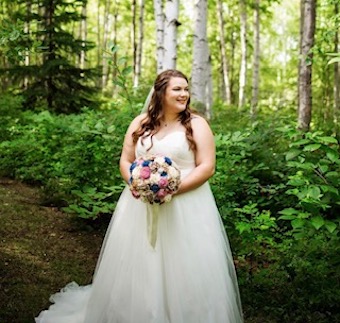 My mother squeezed my hand as she smiled and gazed at the TV screen before her. "She is so beautiful!" she said as she watched her granddaughter Jonelle walk down the aisle.
I had to agree. Her wedding dress was lovely, her cascade of light brown curls fell halfway down her back, and her veil flowed gracefully behind her. But the best part was that she looked so happy. Her face lit up the room, and she seemed to be glowing with joy.
"She is so beautiful," my mother repeated as she relaxed in her recliner, a gift from hospice.
My thoughts wandered back to the first of my mother's grandchildren's weddings. It was 2001 when my niece Karen got married over winter break from college. We had a huge snowstorm a few days before which left a beautiful snowy backdrop for her winter wedding. All the family came, including my sister from California whose three children had never seen snow.
My mother, widowed five years before, wanted to make the most of this momentous family event and offered to pay for a hotel room for each of her five children so that even those of us who lived within a reasonable driving distance could stay and enjoy family time together. This was her way as the family matriarch of declaring the importance of family weddings and setting a precedent for the weddings to come.
Of the eight grandchildren who were married in her lifetime, she made it to either the wedding or reception for all but one. Nearing eighty at the time, it was too much for her to fly to New Zealand for her grandson Sean's wedding. Sean had met his wife when he was stationed in Korea, and his wife was teaching English there.
The last wedding reception she attended in person was about a month after her final diagnosis of brain cancer. Ignoring Mom's protests, I bought first class tickets and flew with her to California to attend a reception in honor of her grandson Joey's wedding. We knew this would be her last chance to see her family in California. Despite her growing weakness, she held out well for the week and made precious memories.
How I wished I could have flown my mother to Alaska for Jonelle's wedding! So much had happened since Jonelle had announced she was getting married. Originally, I was planning to fly out with my grown children, then Mom was diagnosed, and just after she took a turn for the worse, COVID hit.
I had hoped to go to the wedding, but so much was up in the air. Would Mom still be alive? Would the venue cancel? Would Alaska allow flights from the lower 48?
Mom lingered, plodding along with an incredible spirit and resolve to live each day the best she could. The venue allowed Jonelle to go ahead with her plans if she followed COVID guidelines, and Alaska allowed people to fly in from other states if they had a COVID test within 72 hours and again when they arrived in Alaska.
At the time my children bought their tickets, it was evident I would need to bow out. At that point, I was taking care of my mother around 60 hours a week and overseeing a collection of aides to cover the rest of the time. I could have placed my mother entirely in the care of an agency I was working with, but it was too risky. There were too many times when aides would call out or not show up, and I would end up spending the night to take care of Mom.
We never expected my mother to make it to her 90th birthday which was around a month before Jonelle's wedding. After a small memorable celebration, I started telling Mom about Jonelle's wedding. Mom had lost her short-term memory, but she maintained her pleasant spirit. Her anticipation of Jonelle's wedding gave her something to look forward to.
Each day when I came in to care for her, she would look up at me and say, "Is the wedding today?"
"Not today, Mom," I would say, "but it is coming soon."
Finally, it was the day of the wedding. Mom watched me place flowers around her apartment.
Then she asked, "Is the wedding today?"
When I responded, "Yes, Mom, the wedding is today," her face broke into a big smile. Then I took the notebook sitting next to her and wrote in big letters, "It doesn't start until 8 pm because of the time change. I gave Lennie the evening off. I told her to come at 10 pm." She nodded.
After dinner, I picked out a floral dress with a lace insert and a satin bow and helped put it on her.
"Perfect for a wedding," I said.
"Yes," Mom said.
"But we're not done," I said, and I wheeled her into the bathroom and curled her hair. I held up a mirror, and Mom smiled with approval.
My son Paul came and joined us. I excused myself while they visited, and I made a special dessert, a berry cobbler made from one of her gluten-free mixes. Not quite on the same level as a wedding cake, but Mom appreciated it.
Paul was able to tune into the zoom on Mom's TV. Jonelle's brother had the cameras set up ahead of time, and we were able to watch the family mingling and making final preparations.
I was filled with conflicting emotions as we exclaimed about the beautiful decorations and pointed out family members who were milling around. Mom focused on the TV and enjoyed commenting on everyone's wedding attire.
As I watched my kids, I wanted so badly to be there with them. But I wanted Mom to be there, too. Healthy, like she was at Jonelle's sister's wedding just the year before.
All through the vows Mom held my hand and said, "She is so beautiful!" over and over again.
When the ceremony was over, Jonelle and her new husband, Josh, had individual zoom sessions with the guests who were not able to come. Mom had her moment. She looked at the screen with her granddaughter and new grandson holding hands. "Hi Grandma," Jonelle said, smiling and waving.
"Jonelle, you are so beautiful!" Grandma said, and then she turned to Josh and said, "And you are a fine young man."
And then I knew there was nowhere else I would rather be than holding my mother's hand while she enjoyed her last family wedding.